Hi
These are the products I gravitated towards and loved using in March 2015.
Mac Mineralize Skinfinish Natural in Light Plus
The packaging has changed form the old see-through compact. The powder makes any foundation look better when set with this powder. It is also perfect for setting concealer under the eyes. It does not give you that flat matte look. It actually looks better when it is worn throughout the day.
Clarins Intant smooth Perfecting Touch
This primer is really nice. It does not clog pores and it smooths out any lines so that foundation does not settle into any lines. This worn under foundation and foundation set with Mac Mineralize Skinfinish Natural is a winning combo. This primer does not have that slippery siliconey feel to it.
So it does keep you oil free for longer.
Elf Studio Contour Powder
This time I am not raving about the blush. I previously said that the contour powder was too dark. I WAS WRONG. I was obviously using the wrong brushes and the wrong technique. This contour powder looks perfect when blended out. This creates the perfect shadow. Unlike bronzers that have an orangey tinge to them. I am glad that I tried this powder again to contour. Now I love it.
LA Girl Gel Liner in Dark Brown
I am sure I have raved about LA Girl Gel Liners when I started using them a while ago. I wear black eye liner a lot. But this summer I gravitated to the brown eye liner. It goes so well with all my summer eyeshadow looks and is also more appropriate for work. The quality of LA Girl gel Liners are better than any other gel Liners I have tried, Not to mention the affordable price of these liners.
Revlon Grow Luscious Waterproof Mascara
I loved this mascara when I tried it years ago when it first launched. I didn't think that the Revlon mascaras that came out after this where any better. This went on sale at Dischem for half price and I picked one up. This gives incredible length and Volume. It can be a little clumpy if you don't watch out. But it gives me the "big flash lash look" that I like.
Bourjois Sweet Kiss Natural Lipstick in 06 Rose Tendre
This lipstick coupled with my "Dusty" lipliner from Signature Cosmetics and a clear gloss over, has been my go to lipstick for the month of March 2015. It is the perfect finish to my summery eye shadow looks with brown eye liner. It looks polished but not overdone.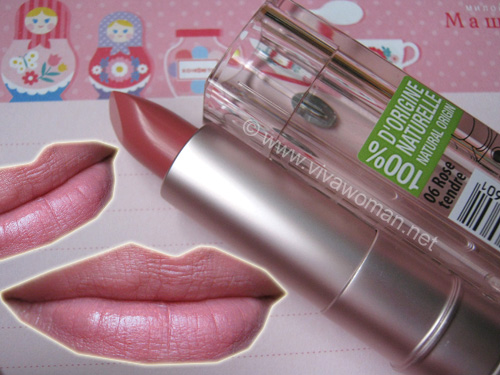 These where my makeup favourites. I am going to try and upload my March 2015 Skincare favourites.
Thank you for reading.