Dramatic smoky eyes and glossy purple lips don't really have a place at the office (well, unless you work at a nightclub). Here's what does have a place at the office: flushed cheeks, rose-gold eyes, and bright lips. So loosen up, lean in a little, and discover 12 shades to get you through the daily grind.
FOUNDATION
Yes, we have always been told to find the perfect foundation for your skin tone. The experts say forget this rule between the hours of nine and five, at least. Fluorescent office lighting tends to lend a greenish cast to your complexion, but you can beat it by wearing a foundation shade that's a half shade darker than your skin.
Crazy? Yes. But it works. Choose a medium-coverage formula, since it evens out skin without looking streaky or cakey.
If you are not happy with this rule, try a bronzing powder instead to warm up your complexion.
PEACH BLUSH
It doesn't matter if you're going on a date or to a 9 A.M. status meeting: A washed-out complexion won't do you any favors. That's where peach blush comes in. It keeps you skin from looking sallow and goes great with warm metallic eye shadow, like bronze, copper, rose-gold, or champagne. Use a blush with a matte finish that is subtle, natural-looking, and nearly impossible to overdo.
HOT CORAL BLUSH
It's a myth that you can't pull off bright makeup at work. A punchy coral blush gives fair complexions a lively flush any day of the week. We know it looks loud in the pan, but choose a cream formula, tread lightly, and blend like crazy to avoid clown cheeks.
REDDISH POPPY BLUSH
Dark complexions should add this saturated hue to their weekly agenda: The deep poppy-red imparts a gorgeous rosy glow that leaves skin looking fresh and healthy. Try a
Cream Blush in Cranberry; its creamy formula won't quit all day.
ROSE-GOLD SHADOW
Beige eye shadow is a snoozefest. You know what's not? Rose-gold. It's still a neutral, but a pink tinge and hint of shimmer boosts the most conservative office uniforms. Try brushing one of these shades over your lids, and finish with a dark brown pencil and black mascara.
CHAMPAGNE SHADOW
Remember how wide-eyed you were on your first day on the job? Classic and subtle, champagne makes re-creating that look a cinch. Seriously: A dab of the glistening shade makes eyes look bigger and younger (bonus!)
COPPER SHADOW
This burnished shade is warm and just a little sexy, but not in an in-your-face, office-inappropriate kind of way. Below: Clinique Chubby Stick Shadow Tint for Eyes in Fuller Fudge.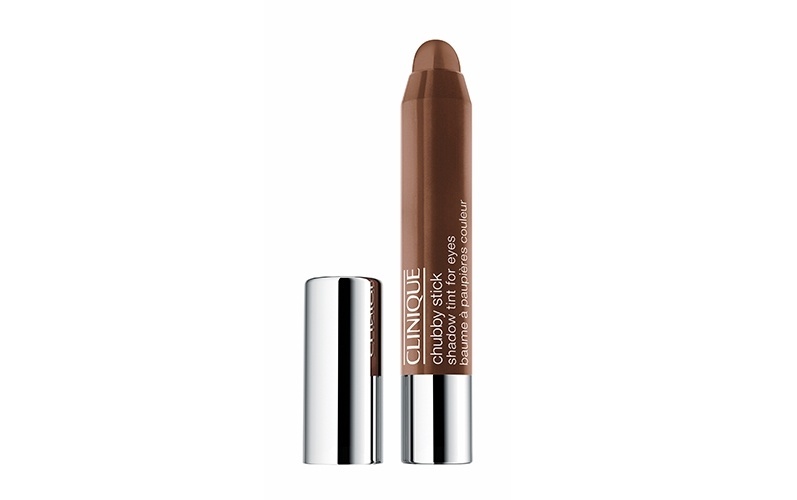 ESPRESSO OR SLATE EYELINER
Don't toss your staple black liner, but try working a new but still subdued shade, like espresso or slate, into the rotation to lighten things up during the week. These shades give eyes gorgeous definition without looking harsh. Below: A brown eyeliner which is a dark espresso brown with a rich colour payoff.
BRIGHT RED
A quick way to look polished: Add a jolt of bright red and keep the rest of your makeup simple. Revlon Cherries In The Snow is a go-to creamy blue-based red, which flatters even the fairest complexions. It's vibrant but not shocking, so it won't look radioactive under those unflattering fluorescent bulbs.
BRIGHT PINK
Medium complexions can pull off orangey pinks, like M.A.C. Lustre Lipstick in Lustering. Skip the glossy finish, but not only because supershiny lips are too much for coffee with your boss: Reapplication will pretty much become your full-time job.
BRIGHT ORANGE
Vivid orange hues are standouts against dark skin. The key to making it office-appropriate is precise application: To keep color from bleeding, paint it on with a brush, pat on translucent powder, and top with another layer of lipstick. Keep a mirror on standby for checks and touch-ups throughout the day, too. When you're going bright, you have to commit. Below: Mac Morange Lipstick
BERRY STAIN
For days you'd rather not go bold, get out the door fast with a rosy stain. Pat it on with your fingers, pair it with just a little liner and mascara, and you'll quickly look pulled together. Below: L'Oreal Paris Colour Riche Caresse Wet Shine Stain, Berry Persistent