Mascara is like my best friend. No matter what look I am going for, she has always got my back.
Here are 10 commandments to abide by when it comes to applying mascara.
# 1. Thou shalt curl before you use mascara
Curling after your mascara has dried may cause your lashes to break. You'll also be staining your lash curler. Always curl your lashes thoroughly before you apply your mascara. Do it in three parts – at the root, the centre and then at the ends. This will ensure a nice U-shape curl, instead of a sharp and unnatural V-shape curl.
#2: Thou shalt know your wand
Knowledge is power when choosing a mascara. Choose a mascara that has a wand that can help support what you lack. If you have sparse – go for a volumising mascara. Have droopy lashes? Use a mascara with a curling wand.
#3: Thou shalt not pump the wand
Moving the brush in and out pushes air and bacteria back into the tube. No one wants to smear germs onto their eyeballs! Exposing the mascara wand to the air over and over again will also cause the product to dry out faster so it doesn't last as long as it should.
#4: Thou shalt apply in a zig-zag motion
This is probably basic 101, but apply mascara from root to tip in a zig-zag motion to make sure that formula goes from the wand to your lashes. Always apply mascara from underneath the lashes. Brushing on top will weigh lashes down and make them look limp.
#5: Thou shalt not condone clumps
Clumps are common. But this doesn't mean you should leave them alone. Neaten up your lashes by brushing a spooley through the clumps so your lashes look defined.
#6: Thou shalt not forget your lower lashes
Many women forget about their lower lashes, but they're the finishing touch to your look. Not applying mascara to your lower lashes is like going out with a great dress without shoes. For an everyday look, simply run the brush lightly over the tip of your lower lashes to give them darker and more defined. If you're afraid of smudges, place a card below your lashes to prevent the formula from getting onto your undereye area.
#7: Thou shalt avoid using waterproof mascara everyday
Waterproof mascaras are usually too tough to remove. Even with a good eye makeup remover, you'll still have to rub and pick to loosen the formula from your lashes. If you do this consistently, chances are your lashes will break and this will mean you'll need more mascara to make up for the lack of length. Its a vicious cycle.
Save waterproof mascara for your wedding when you really can't afford to let tears of joy spoil your look. Otherwise, go for formulas that are water-resistant, instead of waterproof.
#8: Thou shalt try coloured mascaras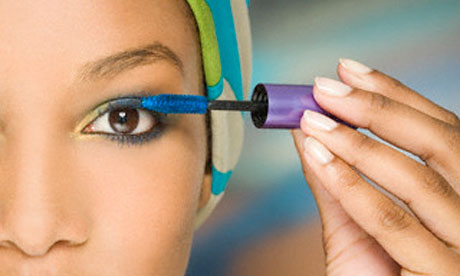 Yes, black doesn't discriminate and looks great with every skin tone and hair colour, even blondes. The whole point of applying mascara is to make your lashes visible. Experimenting with colour can be fun too though. Just don't end up looking like Ke$ha; unless you're into that sort of thing.
Several brands offer coloured mascaras and the contrast against your natural eye colour can give an outstanding effect.
If you have green eyes, try purple mascaras. Brown eyes will do well with green and blue mascaras. If you're afraid of trying colours like orange or yellow, apply it at just the tips of your lashes after a coat of black mascara.
#9: Thou shalt remove all traces of mascara thoroughly
You're definitely going to need a makeup remover that's designed for eye makeup to get everything all off. Pour the makeup remover out onto a cotton pad and let it rest on your eye for 5-8 seconds. Gently dab every trace of makeup off.
#10: Thou shalt give your lashes rest days
Consider giving your lashes a holiday sometimes. Take one or two days off per week and simply go without mascara (and makeup). Allow your lashes to breathe and rest from the makeup removal action. They will grow stronger and more healthily
Which of the ten commandments will you be starting with?