Hi There
In a previous post I showed my current skincare favourites. In this post I will concentrate on makeup items.
Catrice Defining Blush 080 Sunrose Avenue
I am a very big fan of Catrice as a brand. I think their products are well-made, finely milled, and extremely affordable. This is my second blush from Catrice.
Catrice Defining Blush in 080 Sunrose Avenue is a lovely muted, glowy rosy shade. The finish is much like the pink glow you get in your face after you've been out and about on a nippy, chilly day. This makes it a highly versatile, multi-occasion blush that works for the office and also for nights out. Because it's so pigmented, however, you need to be light-handed with application, especially if you're fairer skinned. The upside is I think this shade would work well with a whole variety of skin tones, including darker or olive tones.
The Catrice website describes their blushes as follows:
"The ultra-fine, highly-pigmented powder blush with vitamin C and E spreads easily, sets fresh accents, emphasizes your cheekbones and models the contours of your face. Top marks for a perfect finish"
Mac Studio Sculpt Foundation NC25
I love using this foundation as a concealer on my dark eye circles. It is gel-based and has a medium to full coverage perfect for dry skin. My under eyes are really dry and need the coverage. I find a lot of concealers dry out my under eyes. I apply eye cream, under eye primer, then a layer of this foundation. Days when I need extra coverage, I may apply a little LA Girl concealer over this and I think the gel in the foundation really makes a difference. On cooler days I do reach for this foundation to wear all over my face as well.
Mac Blanc Type Eyeshadow
I have done a previous post on this eyeshadow and although I have a dupe for this shadow, I reach for this every time I do my makeup instead of the dupe. It is currently my holy grail browbone shade. The quality is excellent and the finish is awesome. Point Blank Period.
Essence Kajal Pencil in 01 Black
I have always liked Essence kajal pencils and lipliners. There are such good quality and the you cant beat the price. There is no need to spend money on high end brands when these gems are around. I use this kajal pencil to tightline (line my upper waterline).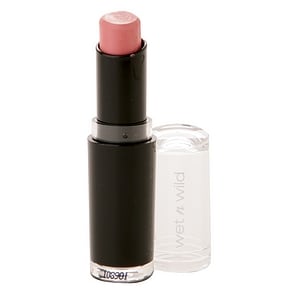 Wet n Wild MegaLast Lip Color, Just Peachy 903C-
Wet n Wild Just Peachy lipstick is said to be a dupe for Mac's Kinda Sexy lipstick. I think Just Peachy is the perfect summer shade. Its not too bright or too nude. It pairs well with a smokey eye. I love wearing it with a green eye shadow look. This lipstick looks even better when worn with Milani Luminoso Blush. These two were made to be worn together. They compliment each other.
Essence XXXL Nudes Lipgloss - 05 Forever Rose

I don't know why this lipgloss is called Forever Rose as there is nothing Rose about it. It is a peachy shade and pairs nicely on top of Wet n Wild Just Peachy lipstick. This is the perfect summer combo shade along with Milano Luminoso blush. I have always liked Essence glosses. They are super affordable and very good quality.
Justine Make-up Fixer Mist
This was on sale in the Justine catalogue so I wanted to give it a try since my Rose Water Facial spray was finished. Setting my makeup with powder is a must, but I don't like the dry powdery look. This kinda melts the powder into my skin with the rest of my makeup and sets it so that it looks more natural and not powdery. It also has a pleasant smell and does not break me out. I like to use this if I am going to wear a long wearing dry foundation like my Mac Studio Fix Fluid.
My last favourite is not in the picture above. It is Signature Cosmetics Nail Polish in
Deliciously Dark.
I have been wearing this shade on my toenails since last December. I had a manicure in December and had this shade on my finger nails and fell in love with it. I found this shade at a Signature Store. I believe Rimmel has a shade like this in their line called Rimmel 60 Seconds Deliciously Dark.