I wanted to do a blogpost on my current Holy Grail foundation Instead I am going to write about my the best foundations I have tried in each category. I have tried many foundations, and I have a draw full of them to prove it. In my upcoming blogposts the foundations I am going to review is powder, cream, mousse, mineral and liquid foundations. I would also like to review tinted moisturisers. So in this blogpost I am going to concentrate on the best powder foundations I have tried in my opinion.
Powder foundations
I previously had extremely oily skin so a long wearing powder foundation with full natural coverage was needed. Does a foundation like this even exist? Yes it does.
Mac Studio Fix Powder Foundation
.
I am not a fan of Mac's liquid foundations, but the Studio Fix Powder Foundation is awesome if you need coverage and have combo or oily skin. This is great and I used it for years. Mac also have a "back to Mac" policy whereby if u return any six empty Mac containers (powder compacts, eyeshadow pots etc ) you will get a free lipstick. I absolutely love Mac lipstick. So getting a free lipstick of your choice was a bonus (excluding the Viva Glam collection). When I started using this foundation I did not have primer and setting sprays, so with these two products it will look even better and natural with no powdery finish. I wear the shade NC30 in winter and NC35 in summer. I also think this foundation is reasonably priced. Mac has a setting spray called "Mac Fix Plus" setting spray which is very popular but expensive, which can also be used to set this foundation if required.
Palladio Herbal Dual Wet n Dry Powder Foundation
So from the description is says that you can apply it wet or dry.
USE DRY FOR A SHEER NATURAL LOOK. I would personally use a Kabuki brush and only use the sponge included for on the go touch ups if I didn't want to carry an extra brush.
USE WET FOR MAXIMUM COVERAGE. The instructions on the box states : Wet sponge with water for oily skin or your favourite moisturiser for dry skin and apply for all day maximum coverage. I have not tried this method. Instead I take my Kabuki brush and swirl it in the powder., Then I spray the Kabuki brush with distilled water, then I apply it to my face. This method applies lovely without wetting the powder compact itself. You then swirl the brush back into the compact for more product and spray the Kabuki brush again and apply yo the other side of your face. Using this method gives me good coverage and I don't get the powdery look and it looks like satin on my skin. You can then leave the foundation as it is or set it with a setting spray.
If you have normal skin you might not need a setting spray since it was already applied with water which blended nicely into your skin already.
The only downside to this foundation is that's it has 8g of product and gets finished quickly.
The storage compartment for the sponge is bigger than it needs to be. But for the price, you can afford to repurchase as it does cost less and works better than most high end brands.
Estee Lauder Double Wear stay in place powder foundation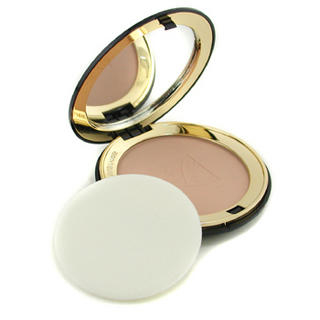 Estee Lauder Double Wear stay in place powder foundation is full coverage and looks really nice on the skin. With Estee Lauder foundations you need to get colour matched at least two or three times at different counters then go outside the mall in natural light and have a look for yourself. The lights at the Estee Lauder counter are very deceiving. Once you find your correct shade, you will fall in love. Also make sure you get colour matched every 6 months because we tend to be lighter in winter and darker in summer so you may need a different shade for these season's. The one downside to this foundations is that it is expensive.
Other powder foundations I have tried include
Clinique powder foundation
and
Kanebo powder foundation.
I was colour matched incorrectly for the both these powder foundations so I gave them to a friend to use. The Kanebo powder foundation was awesome! Its a pity I was colour matched incorrectly. Besides being a gorgeous foundation, it comes in a refill container so you purchase the container once-off and only purchase the refill thereafter. The only reason I did not repurchase was because it is quite expensive. Also the packaging is really smart. Kanebo is sold at Dischem stores.
Applying powder foundation
:
I once watched a You tube video where the instructor sprayed Mac's Fix Plus setting spray onto her face, then swirled her brush into the powder compact, then sprayed the brush with the powder on it. She then applied this all over her face. She finished off by setting her face / foundation with another spray of the Mac Fix Plus. This method gave her thecoverage she needed, made the powder adhere to the skin and took away that powdery look.
I decided to try this method but tweaked the application a little. The item I used where:
- Primer
- Kabuki brush
- Distilled or bottled water in a spray bottle
- Rosewater / Vitamin E spray / Mac Fix Plus Setting Spray.
All primers are different so use one that agrees with your skin.
I always use a kabuki brush to apply powder foundation. It gives more control and a precise application and more coverage when applied.
I always have a spray bottle with distilled or bottled water in it. After I swirl the powder in the compact I spray the kabuki brush with water, thereby dampening the powder, and then apply it to my skin. I continue with this until my entire face is covered in powder foundation.
I then choose whether I want to set the powder foundation further before applying blush although it is not necessary.
I would then spritz more distilled water over my face which just sets the powder and blends it into my skin. This is good for oily skin as you are not applying any foreign ingredients to your skin that may make you oily throughout the day.
I may choose to set the foundation with rosewater (without any glycerin) instead
On the days my skin is feeling dry, I set it with the Vitamin E spray I purchased form the Body Shop..
Your powder foundation will wear for a longer period without having to reapply.
Thanks for reading.
Xoxo