Hi All
This a tag that is doing its rounds on the blogosphere and I thought I would take a crack at it, since I know how important it is for us busy woman to take time out for ourselves every now and again.
So here are the questions ......
1. What do you watch or read during me-time?
Since I have an external hard drive, my friends and I are always swapping the latest series. I have spent hours watching series. I think my favourites where "Games Of Thrones", followed by "Pretty Little Liars" and then "Revenge" I also adore the girls on "Two Broke Girls", they are hilarious.
Right now I am watching "Tyler Perry's The Haves and the Have Nots" and I am Season 1 Episode 10 and I have some catching up to do. I have only been reading blogs and my e-mails. I have not read a good book in a long time.
2. What do you wear during me-time?
Around the house I wear comfy sleeping shorts and a T-shirt - no underwear allowed!
3. What are your me-time beauty products?
Yes, while its essential to do a scrub and a mask, which I do, my quintessential me-time beauty treat is my
Decleor Hydra Floral Eye and Lip Moisturizing Mask.
4. Current favourite nail polish?
Sally Hansen Lustre Shine #004 is my current favourite nail polish. It is a captivating blue with an iridescent shine. It looks like is has a bit of purple in it as well. Simply gorgeous!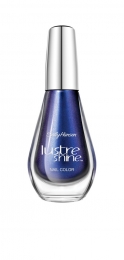 5. What do you eat/drink during me-time?
I know this sounds boring but I like to have Rooibos tea and rusks. I don't have rusks often, or anywhere else, except when I am home having me time. I also like to keep muffins at home on weekends when I want to snack.
6. Current favourite candle?
I have a Cranberry Scented Candle from Woolworths that I received as a gift. I love anything Cranberry. I also like the "Baby Powder" scented candle from Yankee Candles.
7. Do you ever have outdoor me-time?
I would say yes - everytime I am makeup shopping LOL. What can I say, shopping for makeup is calming and seeing all the pretties up close and personal is better than looking at them online.
Do I go into the garden to plant, or go riding - Hell No.
8.Would you ever go see a movie alone?
I definitely would. I remember being stressed about a month and a half back and I took a half a days leave, and I went to the movies on my own. It was calming, and I came out feeling glad that I did it. And the movie was good. I went in my time, and chose the movie I wanted to see, and didnt have to rush to get anyone else home on time.
9. Favourite online shop?
I would have to say Red Square. Who could resist the free samples with every purchase?
10. Anything to add? What else do you do during me-time?
De-cluttering my room is important to do every now and again. I tend to sometimes keep old receipts, which pile up and I then have to throw them away at a later stage. Putting order back into may makeup stash, or getting rid of makeup I don't need or use is important. Its a chance to go through my stash and get rid of things that may be close to its expiration date. I also find that I use the same items over and over again, so "me time" is the best time to "Shop my Stash" and rotate things for me to use in the next week for work.
Yes, playing with my makeup is always calming - spoken like a true makeup junkie.
I hope you've enjoyed this tag! I highly encourage you to do it, because it's super fun and I think it would be really fun if we just spoke more about pampering ourselves and relaxing, because we all need it sometimes.