Hi there
I have another empties post of products I have used up in the last few months. I will let you know if I enjoyed the products or not. So here goes...
Simple Kind To Skin Cleansing Wipes
I received three packets of the trial size packs, 7 wipes in each, as a gift with purchase offer.
I enjoyed using them, they get the job done and are just as good as the Clicks branded ones I like. I have not purchased more as the Clicks ones are cheaper.
Simple Kind To Skin Refreshing Facial Wash Gel
I have already purchased another tube of this Simple face wash. I have always believed in being gentle on my skin in the morning by using gentle face washes as part of my morning skincare routine.
I also use this face wash as night as my pre-cleanse, thereby cutting out the use of pre-cleanse oils, cleansing milks, followed by makeup wipes. Using this at night has saved me time. It removes all my makeup. I rinse it off with warm water. I then follow with my salicylic acid cleanser with a facial brush. My evening cleansing is then done. In winter, I just want to get finished as fast as possible.
Simple Kind To Skin Soothing Facial Toner
I know, there is a lot of simple Skin care in this post lol. I have re-purchased this toner many times over. It is a staple product for me. I empty some into a fine mist spray bottle and spray some onto a cotton pad to use on my face. I love this product.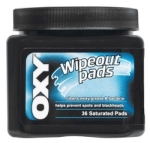 Oxy Wipeout Pads
Oxy Wipeout Pads is another product I have always repurchased and you guys have seen over & over on my empties posts. During Summer I use it almost every night. In winter I try and use it only when I feel I need to, as it can dry out the skin. Like if I am feeling greasy and feel a breakout under my skin about to appear. This really does dry out any pimples before they surface, and If I have a breakout, it dries them up over night. This product contains salicylic acid, so be sure to wear sunscreen during the day.
Left: Garnier Pure Active Daily Cleansing Gel Wash
Right: Pure Active Intensive Deep Pore Gel Wash
I have used up both these face washes and have repurchased the Garnier Pure Active Daily Cleansing Gel Wash (left) 3 times. The one in the white bottle is supposed to be "intensive" but I find the one in the blue bottle is more "intensive" The blue bottle is also cheaper for some reason. It contains salicylic acid and purifying zinc for oily to combination skin prone to imperfections. It eliminates oil & imperfections & tightens pores.
The white bottle has 2% salicylic acid & herbasoothe for oily to spot prone skin. It fights spots & fades marks.
I always use a salicylic acid face wash at night only with a facial brush, after my pre-cleanse.
Clarins Multi-Active Night Youth Recovery Comfort Cream
I absolutely adore the Clarins Multi-Active Night Youth Recovery Comfort Cream. I agree, it is a comfort cream and its very soothing. I first tried this product when I received a travel size last year (75% the size of a full size). I used the travel size, which lasted me forever, then I cracked open the full size. Both of them lasted me from last year summer, to the beginning of winter this year. You only need to apply a tiny bit. It is supposed to be for normal to dry skin. I wore this product through all types of weather, cold and hot, and its safe to say that I can use this product all year round, regardless if my skin is oily or dry. I seldom find night creams that do not block my pores and I am sensitive to fragrance. This one is awesome on me. Who doesn't love a good anti-ageing cream?
Magi Clear Even Skin Plus Bio-Active Cleansing Gel

This product is by the Institute Science At Work. The whole Magi Cleat Range is sold in Clicks. This should have been in an old empties post, but I did not include it. I found the empty bottle the other day and decided to add it to this post. The Magi Clear range includes a Cleansing Cream, Smoothing Cream Scrub, Gentle Skincare Soap, a Moisturiser and an Anti-marks Serum (which I would love to try) They are affordable, dermatologist tested and is suitable for all skin types.
I found this face wash to be very gentle. I feel it would be better for winter time when the weather is colder. I used this in the mornings only.
Softi Round Cotton Pads 80's
I always repurchase these over and over. Most of the time there is a special on at Dischem where you get two packs for R19.99 or 1 pack for R12.99. Dischem has changed the packaging to blue now, but the quality is still the same.
Bergamotessens
This is another recurring product on my blog. I pour half a bottle of this in my shampoo and the other half in my conditioner. It was recommended by a hairdresser and works like a charm. I like the smell and my hair is healthy now because of this. No more weak, damaged hair, The only thing, is that it makes the shampoo watery in consistency (not effectiveness) I can live with that. It does not do this to the conditioner at all.
I also finished a tub of
Perfect Touch Shine & Hold Wax - Shape & Definition
. (No Picture Sorry)
I have repurchased this. I use it to help give my Pixie cut some definition and shine every morning.
Essence Sun Club Oil Control Paper
These are great to keep in your purse especially in Summer when its hot. I use blotting papers less in Winter time. These are inexpensive and a good staple to keep in your hand bag.
Charlie Mega Wink Lash Enhancer Mascara
I bought this mascara because it was on sale for R39 at Dischem. Wow, I should have bought more than one. I like it more than the other mascaras that I have raved about. I would have never purchased this if it was not on sale. But I think I discovered it too late because it looks like it has been discontinued. When I went back, the ones left in the sale section, had been opened. Have a look at the brush. it kinda looks like the brush on the Revlon Grow-Luscious mascara (the original one). There was zero clumps, awesome separation of lashes, volume and extended length. . I have short lashes and believe me when I say that I received compliments when wearing this, even while wearing reading glasses. I am sad that this is now finished.
Charlie Mega Watt Volumising Macscara
I bought the Charlie Mega Watt mascara the same day I bought the Charlie Mega Wink Mascara. Sadly, this one didnt do anything for me. It was just an "okay" standard mascara. I would use it as a base coat under other mascaras.
The other products I used up consist of hand wash, soap, tooth paste etc., the usual stuff, nothing exciting.
Sorry for the long post, but thanks for reading.