Hi Y'all
I know it's been a hot minute since I have posted, It's that time of the year again - financial year end.
It's like a dirty word. Lots of extra work to do and preparation for auditors blah, blah, blah.
Anyhoo, this week I decided that I needed a lunch break so I drove to Gateway Shopping Mall. My first stop was Foschini as I was out of my favourite Moroccan Argan Oil. Before going to the till, I thought I would browse around the store. I reached the makeup brush section and I nearly fainted.
Low and behold, what did I see - REAL TECHNIQUES BRUSHES by Samantha Chapman.
After a few deep breathes, I had to ask "how long"? The sales assistant told me that they arrived two weeks ago. If your a true makeup lover like me, you have definitely heard about Real Techniques brushes. Its hard to find quality brushes without paying an arm and a leg. Foschini have always had another brand of brushes called the Studio Basics line, which are really nice. I have a few of these. I have also fallen in love with my Cala brushes I have been purchasing over the last couple of months from Dischem. But these Real Techniques babies have changed my life.
From what I have seen, not all the Real techniques brushes are sold in Foschini - unless there where some sold out by the time I got there. Here is what they had:
Stippling Brush
Blush Brush
Shading Brush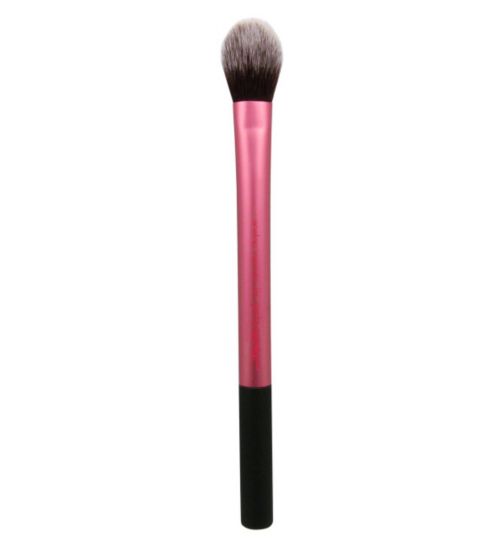 Setting Brush
The two brushes that I purchased were the
Expert Face Brush
and the
Setting Brush
.
How have I lived without these brushes so far?
I have barely used a brush to apply foundation in the last year, and on the off chance that I do, I always thought that my buffing brush was the bomb as it was the most dence brush I owned. It buffs foundation in flawlessly without leaving streaks. Most days I use the beauty blender dupe. I have been using the
Expert Face Brush
everyday since I got it. All I can say is "WOW" This brush uses less foundation. It does not soak the foundation into the brush. It gives a flawless finish, with no streaks, just flawless buffed in goodness! I have had to pump out less foundation when I use this brush. I think this brush would also be great for any cream or liquid products including blush. This brush retails for R159.95.
The
Setting Brush
is another gem. I have been using it to set my under eye concealer. It sets under the eyes without packing on too much product. Its soo soft. It would be great to get another one of these brushes as I think it would be great for applying highlighter on the high points of the face. Since it is so soft and the brush point is so precise, I think it would be excellent for applying and blending out contour powder. This brush retails for R99.95.
I am not sure if these brushes have been rolled out in every Foschini store.
Happy Easter Everyone!