Hi There
The Lush store in Gateway Shopping Centre in Durban is once of my favourite stores to visit. The smell that comes out of the store when you walk past is soo inviting. Below are pic's of the Durban store:-
We did Secret Santa at work and exchanged gifts this week at Beluga Restaurant. Everyone's name went into a hat and the name you chose, is the person who you would have to buy for. A wishlist was also filled out, where a person could fill out three things that they would like to receive. So the person that picked their name had a pretty good idea what to get them. So everyone got something they really wanted. And yes, there was a budget set. We had to still guess who bought the gifts (which was the secret part of secret santa)
I filled in my wishlist. My first option was sold out everywhere in Gateway, go figure.
My second option was Lush products and I was very specific on what I wanted (I even included pictures lol) I asked for MASK OF MAGAMINTY, and if that was sold out then I wanted OCEAN SALT, and if that was sold out, I wanted ULTRABLAND. Guess what? My Secret Santa went over the budget and got me both the Mask of Magnaminty and the Ocean Salt as well as a box of Amarula Chocolates. I was soo happy!
I also had to buy gift for a guy and a girl, which I will be giving to them next weekend. I thought Lush products would be the ideal gift as they are such hard working, giving people. I wanted to give them something that would help them to chill out and just relax. This is a married couple, by the way.
For for the female I bought the following three items:
Mmm Melting Marshmallow Moment Luxury Bath Melt
The Comforter Bubble Bar
Think Pink Ballistic (Bath Bomb)
For for the male I bought the following three items:
Dirty Shaving Cream
Golden Wonder Ballistic (Bath Bomb)
Miranda Soap
Everything smells so divine. i hope they enjoy their gifts.
Also, I must include a further wishlist of my own:-
Reindeer Rock Soap
Angels on Bare Skin Cleanser
Sex Bomb Bath Ballistic (Bath Bomb)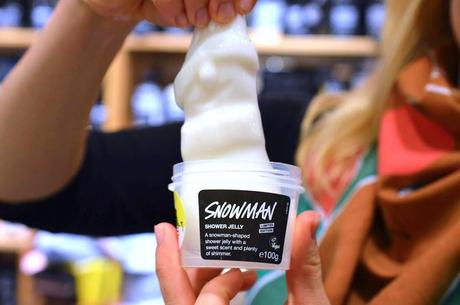 Snowman Shower Jelly
Ro's Argan Body Conditioner
CoalFace (Facial Soap)
Ultrband
Wiccy Magic Muscles (Massage Bar)
I hope you enjoyed this post.
Regards