In a previous blogpost I reviewed the Model Co Lash Brush On Lashes, which is awesome. In this post I am reviewing the Essence Volumizing Lash Powder. This is very inexpensive compared to the Model Co Fibre Lash and I wanted to see if it gave the same amazing results.
The packaging:
Whereas the Model Co version came in a mascara tube, the Essence is in a powder form stored in a container with a screw off lid. It comes with a mascara spoolie for application purposes.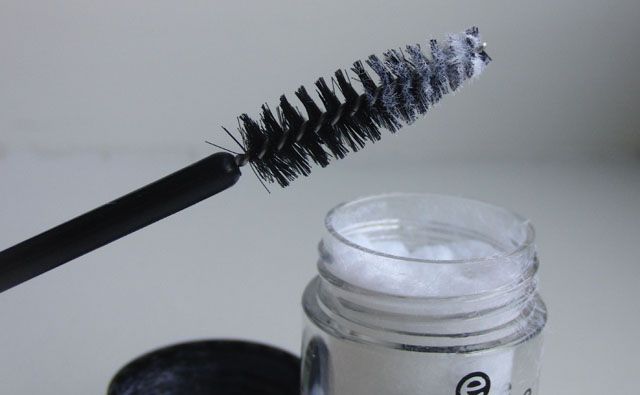 Application instructions:
1. Apply your favourite Essence mascara
2. Apply powder to lashes with the supplied brush before mascara has dried.
3. Use mascara for sealing.
My two cents:
Firstly I purchased the Essence Get Big! Volume Boost Volume Mascara to use with the lash powder as I did not want to experiment with one of my expensive mascaras just in case.
I know the packaging says "powder" but I was expecting "fibres". This truly is a fine powder. There is no way "not to make a mess everywhere" the first time you try this product as the fine powder goes everywhere.
I think this is because the container is filled / tightly packed with the powder and there is no space for the brush / spoolie to be inserted into the powder to pick up the product.
You really cant apply this when you are in a hurry and you need patience. I was so used to the Model Co. Fibre Lash in a tube, I found the application somewhat difficult.but with practice it does get better and you will find a way to put it on to your satisfaction.

Tip:
After applying the second coat of mascara, be sure to wipe off the mascara wand with a makeup wife before closing the mascara tube. The powder tends to thicken the mascara and dry it out. My wiping the wand, the mascara stays clean and moist, ready for the next application.
I had a thought of maybe putting some of the powder into a mascara tube and make my own fibre lash mascara. This may work and may eliminate the mess it makes when applying.the product.
Pros:
Inexpensive
Will last a very long time as there is a lot of product in the container
This product does work when applied properly. I did see a big improvement after using this powder.
Cons:
Messy
Packaging is inconvenient
Overall I do like this products as it did lengthen my short lashes. I will purchase another mascara to use with this mascara as I feel the Essence Volume Boost Volume Mascara was just okay.