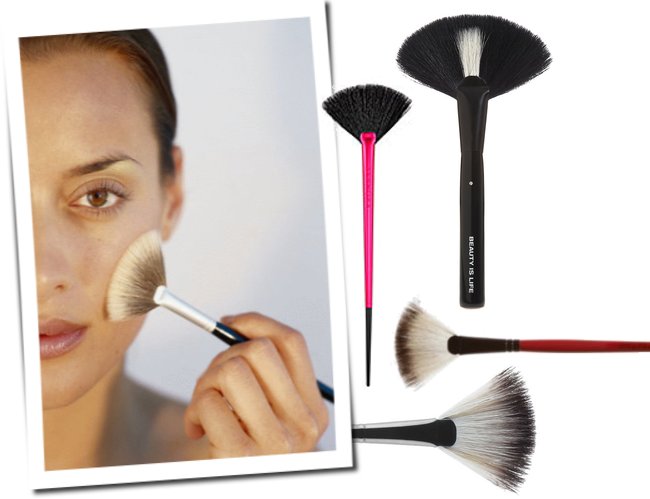 A fan brush is one of the most practical makeup tool essentials around. It's often used to apply a setting powder for a soft-focus, weightless kind of finish. But that's not the only reason this multitasking makeup brush is so great
Many makeup brushes, such as eyebrow brushes, serve a specific purpose. Others are multi-purpose. You can use a fan makeup brush to create different effects on cheeks, eyes and other parts of your face.
Blusher / Bronzer
If you want just a sheer touch of blush or bronzer on your cheeks, or you tend to have a heavy hand when it comes to makeup, a fan brush will enable you to create a softer look. In turn, use the brush's flat shape to assist in contouring where needed.
Dip the brush in some loose powder blush. Start in the middle of the cheek (just below the cheekbone) and sweep the brush at an upward angle toward the ear.
Clean Up
By design, a fan brush fans away product. Use a soft fan brush to lightly dust away stray eye makeup that has fallen onto your cheeks after applying.
Even Out
Use a large fan brush to redistribute loose powder on the face. The thin, lightweight hair on the brush picks up any excess fine powder left on your skin by a makeup pad or powder brush.
Blend / Diffuse Color
Thanks to the rounded tip, a makeup fan brush is ideal for blending. Use it to blend darker shades to tone them down or soften up a dramatic look.
Highlight
Use a fan brush to sparsely dust a light, shimmery powder over the apple of your cheeks and the middle of your forehead to bring out these areas through highlighting.
Powder foundation
Get a more precise powder foundation application when using a fan brush.
Skin care applier
Make a mask or peel go on all the more smoothly with a fan brush. Better yet, you'll get nice coverage without using a lot of product.
Available at Clicks Stores