Hi there
A few ladies from work and myself visited Dischem during one of our lunch breaks to check out the Spring Beauty Fair. While the others where checking out the discounted skincare and perfume products, I (as usual) was hovering by the makeup stands. I was so shocked to see the LA Girl was fully stocked with a bunch of new items.
Chubby Lipstick Pencils have become a craze and most high end brands have their luxury versions of them. LA Girl has their own version called the Chunky Lip Pencil. I love the colours so I picked up 4 shades at R34.95 each. I chose shades Wine, Cocoa, Warm Caramel and Rose. I want to go back and get the Red Shade as the swatch was gorgeous.
Hello! You don't have to shell out the price for a high end version, as these are gorgeous and full of colour at a fraction of the cost. I would suggest applying a lip balm underneath first.
After I spotted the the Chunky Lip Pencils my eyes fell onto the LA Girl Glazed Lip Paint and fell in love with it. These will give other lip paints a run for their money!, So now I don't have to shell out for the Rimmel Apocalips or the Loreal version or the YSL version. These are so full of colour, it will make your head spin. They are very pigmented. These retail for R39.95. I chose the shade in Blushing and I am definitely going back for more shades.
I picked up two of the LA Girl 3D Effects Hologram Nail Polish at R39.95 in the shades Brilliant Blue and Sparkle Ruby. I want the Teal Dimension shade next.
Another interesting discovery at the LA Girl counter was the 3D Blush Contour Palettes at R39.95.
I chose the shade Sweetheart. I would love to have another palette. There seems to be one for every skin tone and every shade. It is nice to have your blush, highlighter and contour in one compact.
The blush shades range from soft pinks for pale girls to dark pinks for darker toned girls. There are peach and coral shades as well. Every contour and highlight shade are also different depending on your tone and shade chosen.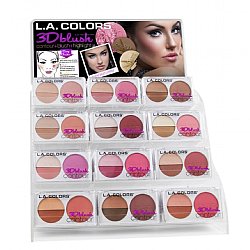 LA Girl continues to impress me. Even the other nail polish lines are great, even though I did not pick any of those up. They have the Feather Frenzy line and Sand Blast nail polish line just like higher end brands. I also love their concealer and lipsticks.
I am soo happy with my purchases and even happier that I did not have to break the bank to get them.
XOXO
Natalie